When You Take That Step
So you want to get married? Great!! You should also make up in your mind that you also want to live a life of sacrifice, unconditional love, and learning how to make decisions with your spouse in mind. In order for marriage to work beyond the honeymoon couples need to realize that it takes work to make it last. One of the things that I've tried to do as a married man is to ask older couples their secret. Most couples tell me don't sweat the small stuff, do things together, and learn how to laugh. These are very simple things to do and by the response from the couples I've asked, they seem to be very sincere. So what is the key to having a good marriage? The key to having a good marriage is to first realize that a good marriage is not handed to you, but created. The thing that couples realize after they come home from the honeymoon is that they're both different. I know that you've dated for six years, you know each other's family, and you do everything together. But the important thing to realize is that you're two imperfect people coming together to create a "perfect" marriage, only to find out there is no such thing as a "perfect" marriage. The only marriage that a couple can have is the one they have worked to create. If you want a good marriage, then it's important to create a good marriage together. If you want a marriage that is boring, then the effort you give will be lifeless and stale. If you want a strong marriage that will last, then you will fight with all your heart and stick together through the thick and thin.
The first thing that couples who are getting married should do is work on laying the foundation for their marriage. Imagine you have been given the chance to construct your own house. You're meeting a builder to discuss what materials you want for your house. You may be living in California where there are earthquakes or Florida where there are hurricanes. The materials that you use for your house will determine whether it will stand or fall during these natural disasters. Marriage will have its share of hard times, but depending on what your marriage is based on will determine whether it will last during those difficult times. It's the same principal as if you're building a house. Couples should take the time to attend pre-marital classes, read books together about marriage, and connect with married couples who are grounded in the word of God. Although your experiences may be different in your marriage compared to other couples, it's good to have a guideline of what a healthy marriage is all about.
The second thing that's important to do is to not stress during the planning stage before your marriage. I don't believe in long engagements (2 to 3 years), having everything in place before you get married, and finding a mate that's 100%. If you're going to have a long engagement it's important to also set a date and stick to that date. Some men are scared to take that next step and put it off to prolong what they're really not sure of. Getting married is the highest level of commitment that two people can have together if done the right way. It's important to express to each other your fears and frustrations about getting married. This will help you to move closer to one another during the process. Marriage is a chance for couples to create a life together the right way and to share love on a deeper level. Learn to laugh during the engagement period, come up with a planning schedule together, and have fun. When the wedding day arrives, couples will be relieved, happy, and proud of the journey that they finished and that they are getting ready to start.
The last thing that couples should do as they prepare for marriage is to realize that divorce is not an option. There will be times when you will ask yourself, "Did I marry the right person?" You will want to throw in the towel because it's getting hard, you will find yourself feeling hurt because the person that you married doesn't understand you, and you may think it will never get better. Now there are things that should not be tolerated in a marriage such as cheating, physical abuse, and emotional abuse. If those things are happening then it's important to get out of that situation, because your life may be in danger. But the thing to realize is that nobody is perfect. Your spouse will let you down at times, they may hurt your feelings, and they may disappoint you. But always remember your vows during those difficult times. Remember the part that said "for better or for worse," and this will help you to put things in perspective and to work through those difficult moments. Marriage is a ministry and couples need to realize that creating a lasting love does not happen overnight. Couples need to continue the things that they were doing before they got married and when you look up the two of you will be celebrating your 20th wedding anniversary and so on. And when you're celebrating your anniversary remember that you made it because you never gave up!
Represent Right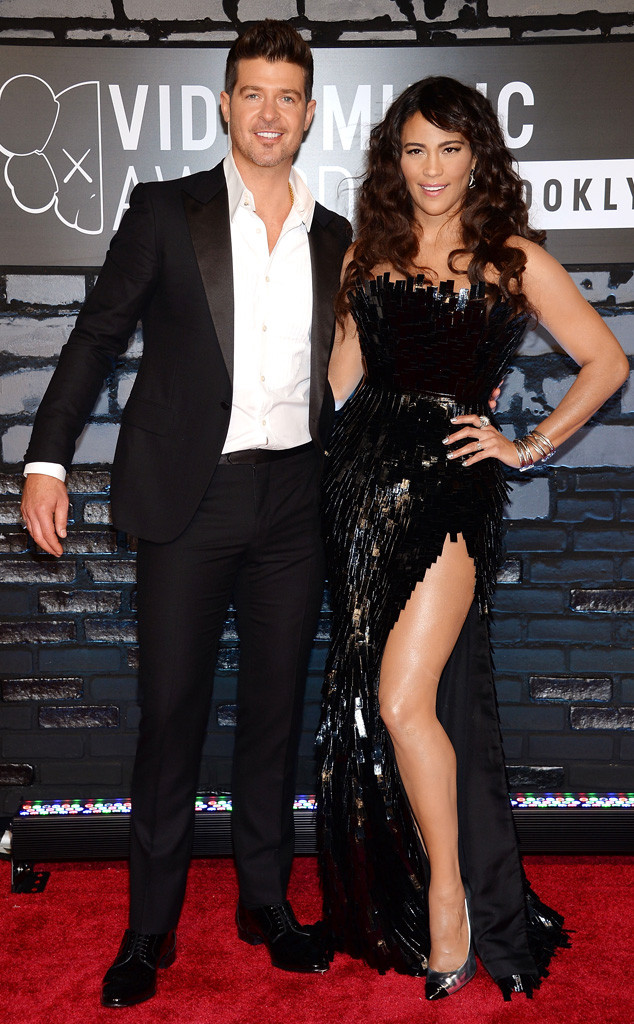 The other day my wife told me about an interview that Paula Patton did on the Today Show. They were interviewing her about her husband, Robin Thicke, and his recent performance with Miley Sirus on the MTV Video Music Awards. To refresh your memory, Robin Thicke performed a song with Mliley Sirus that was very explicit in nature. Paula Patton's response on the show was that her husband did nothing wrong, and he was fine to express himself in whatever way he wants when he is performing. She even stated that she is not traditional in her marriage, and even allows her friends to dance in ways that are deemed inappropriate to someone who is married. I was taken aback by her response and thought about all the young women across America who may have been watching this interview. What did they think of her response, what conclusions are they going to make about marriage, and will they be influenced by her remarks. Then I thought about the husbands who respect their wives, love their wives, and represent their marriage in a way that says, "I honor my marriage and how I represent my role as a husband." I know, I know! It's entertainment. But, is entertainment right at the expense of sending un-healthy images to young people who don't know the difference between what's real and what's entertainment? Honestly, I feel for Paula Patton. It seems as though she's accepted the "that's what my husband does" response. I know they've known each other since high school and they have a deep bond with each other. But what about the married couples who honor what marriage is about? What about the young people who deserve to see healthy images instead of tasteless entertainment? So how do you represent as a married couple? What would I tell Paula Patton & Robin Thicke if I had a chance to meet them? I would say for the sake of the true meaning of marriage, don't have the world see you dance in a way that says you're single while your words say you're married and you love your wife. Don't allow your husband to do what he feels, while you stand as a role model for young women who desire to understand what a healthy relationship and marriage looks like. Lastly, if you have the platform (which you do by the way) let people know by your actions what a good marriage looks like, not what entertainment looks like. I guess the good thing from this whole episode is that we at least know what a healthy marriage does not look like, while we can look for examples in couples that do have a good marriage.
Learn How to Endure
Don't you enjoy seeing the happiness among couple when they first start dating? You always see them together, every free moment they're always on the phone talking to each other, and you see a certain glow about them when they talk about each other. It's no secret that one of the best times when you first meet that special someone there is some amazing taking place.  A person could possibly have found their soul mate, friend, and possibly the person that they're going to marry. The question that I always love to ask is what happens when things get tough and what you had in the beginning of when you met each other is somehow lost. Most people would say we would work it out! We would fight until the end! The next questions I would ask is do you know how to work through conflict with the person who you profess to love and care for with all your heart? Ultimately most people would find someone new in hopes of finding what they had with the last person that they were in relationship with. Most people try to avoid conflict at all cost so they do this by finding the happiness that they once had. Although there is nothing wrong with following your heart, I would caution the person in this situation to check with their "heart" to see if they want to start something new or just work on creating the happiness with what they already have. The first thing that would be important to do before you start searching for something better is first communicate with the person you are in relationship with. Communication can be very difficult if the atmosphere in the relationship is conducive to the people who are in the relationship. What this simply means is that there have to be clear expectations set up front from both partners so that there can be something accomplished after the conversation. For example, there will be no put downs, no cursing, no yelling, and each person will have their chance to speak. It would also be helpful to set a time limit on the conversation. If the issue is not resolved after the end of the discussion, then set another time to speak again. The purpose for doing so is to have an understanding of why there are some issues in the relationship. Secondly, realizing from the beginning that there might be conflict down the road is very important. That is why it is so important for couples to understand how to work through difficult issues. When two people can work through hard times, it actually makes the relationship or marriage even strong. One thing that is very helpful for understanding how to work through conflict is doing a daily devotional together. I believe that having a spiritual foundation is very important. Sometimes couples have to go beyond themselves to work through difficult situations. Once people learn how to connect on a spiritual level then working through things such as problems in the relationship will more than likely have better results. I always encourage couples to pray with each other as a way of becoming close with each other. Lastly, remember that the relationship or marriage you have with a person can become what you want it to become. If you want the best relationship or marriage, then you have to pour your best into your relationship or marriage. What happens sometimes is that people fail to do this only to discover after the break-up 3 years later that a new person is giving them what you could have gave them while you both were together. I will admit that there have been times where I haven't always given my best in my marriage, it was through communicating with my wife and praying to God that I started to grow as a husband and give my wife more than what I gave her when we first met. The beauty of when you fight for the person you are with they will start to see the strength that you poses and love you even more. Don't put off today what you can start doing now to, in order to the happiness that your heart desire.
Love During The Holiday Season
The holiday season can be a tough time for some men. We have to walk through the mall with our spouse for longs hours. We sit and wait while they're trying on clothes. Although this can be a difficult moment for men during the holiday season, it can easily be a time where men can truly show how much they love their spouse. Help her to make a list of the places she wants to go. This will allow the both of you to have an idea of how your time will be spent. Decide on a special place to eat after all the shopping is done. Having something to look forward to once all the shopping is done is a sure way to spice up the evening. Lastly, men should be ready to give their wives a surprise foot massage when they're trying on shoes. This just might be a way for the evening to be cut short, so you two can have some "fellowship time" as you make your way home.
One of the best things to do with your spouse is to act like kids at least one time during the holiday season. Get a sled and go to the park together to enjoy the snow. This creates oneness, releases stress, and allows couples to try something different during Christmas. Please remember to take the kids first before you steal their sled for the day. Go ahead and make a "snow angel" or two when you're out for the evening.
There is nothing better than to serve with your spouse at a shelter, shovel snow for the elderly, or take gifts to those in need. One of the finest memories of me and my wife was when we were on our first date together. We both served food for those in need during a Christmas event.  She later told me that date really made her like me even more.
Shopping for a Christmas tree together can be a wonderful experience. Pick a Saturday morning to have breakfast together and to buy a tree. There is nothing more fun than decorating the tree that night while playing Christmas music.
.
Preparing For Marriage
A Must Watch For Singles
Ultimate Love Songs